Colonoscopy
Delivering Quicker Recovery with Less Pain
Colonoscopy Surgeon (Naples)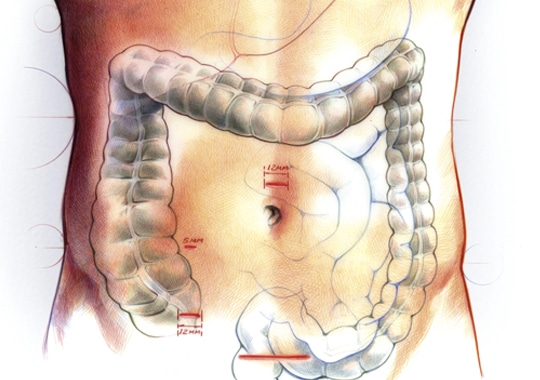 Dr. Mark Liberman, your Naples Colonoscopy Surgeon will perform an endoscopic colon examination and part of the small bowel with a CCD camera or a fiber optic camera. The camera is on a flexible tube that passes through the anus and may provide a visual diagnosis of ulceration or polyps and grants the opportunity for biopsy or removal of suspected lesions.
Your Naples Colonoscopy Surgeon will be looking for gastrointestinal hemorrhage, unexplained changes in bowel habit and suspicion of malignancy. Colonoscopy surgeons will use colonoscopies often as a way to diagnose colon cancer and/or inflammatory bowel disease. In older patients (sometimes even younger ones) an unexplained drop in hematocrit (one sign of anemia) is an indication that calls for a colonoscopy, usually along with an esophagogastroduodenoscopy (EGD), even if no obvious blood has been seen in the stool (feces).
Fecal occult blood is a quick test which can be done to test for microscopic traces of blood in the stool. A positive test is almost always an indication to do a colonoscopy. In most cases the positive result is just due to hemorrhoids; however, it can also be due to diverticulosis, inflammatory bowel disease (Crohn's disease, ulcerative colitis), colon cancer, or polyps. However—since its development by Dr. Hiromi Shinya and Dr. William I. Wolff in the 1960s—polypectomy has become a routine part of colonoscopy, allowing for quick and simple removal of polyps without invasive surgery.
As your Naples Colonoscopy surgeon, Dr. Mark Liberman will recommend a colonoscopy procedure because of the high mortality associated with colon cancer and the high effectivity and low risks associated with colonoscopy. In fact colonoscopy surgeons are now seeing it as a routine screening test for people 50 years of age or older. Subsequent rescreenings are then scheduled based on the initial results found, with a five- or ten-year recall being common for colonoscopies that produce normal results. Patients with a family history of colon cancer are often visit their first colonoscopy surgeon during their teenage years.
Quicker Recovery with Less Pain
Schedule Your Appointment Now!